About us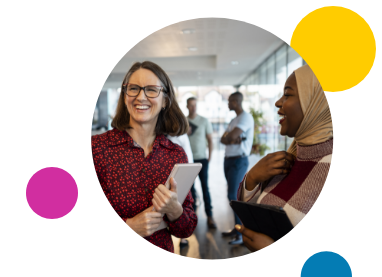 Fairer Together is our approach to working in partnership with communities in Islington to tackle inequality and improve wellbeing, through early intervention and prevention.
Early intervention and prevention is critical to our Islington Together ambitions for a more equal future for our borough. Early intervention and prevention is about working with communities proactively rather than reactively, to break down barriers and build capacity, relationships and resilience in order to change lives.
It brings together organisations across Islington including community and voluntary sector organisations, council services, NHS services including GPs and local hospitals, schools, early years settings, faith organisations and many more.
Vision
The Covid-19 pandemic and the cost-of-living crisis have highlighted that some communities have not been well served by society or public services for a long time.
We aim to make sure everyone can access the right help, at the right time, in the right place through:
improving the awareness of services
increasing accessibility and timeliness of support
providing inclusive, culturally competent, anti-racist services
ensuring greater integration between services and practitioners
Principles
To achieve our vision, we will need to make radical shifts in the way we work.
Working with people and services across the borough, we have identified five key principles to guide our approach to early intervention and prevention.
By uniting around these five underpinning principles, we can ensure that we work consistently with residents, wherever we work, live, or volunteer in Islington.
We work in partnership and are led by empowered communities to tackle issues that are important to them.
Our community can access support that they feel meets their needs.
Our practice uses relationships as the key driver to generate sustained positive change.
Our approach is consistent, shared across the whole borough, and is understood by all.
We are committed to understanding the impact we have, and to learning and continual improvement.
Who is it for?
Fairer Together is a way of supporting those people in Islington who need extra help. This could be a problem with money, housing, family, health or a combination of all of these.
Times are tough and getting harder. We want to be there for local people and help them to get through these challenging times. We know that helping people proactively can help avoid bigger problems down the line.
Everyone who works with people who live in Islington has a role to play in early intervention and prevention, from the park guard to the teaching assistant, to the GP to the social worker.
Understanding levels of need
Early intervention and prevention in Islington is focused on working with and providing support to individuals and families who have emerging needs and is designed to prevent or tackle a problem before it escalates.
Clearly assessing levels of need helps us to consider what the right support may be and ensure the right support is offered at the right time.
Level of needs
Needs
Level 1: No additional needs

No additional needs
Level 2: Emerging or wellbeing needs

Help, support or advice needed in order to thrive
Loneliness, social isolation
Adverse Childhood Experiences (ACEs)
Risk of poor outcomes without help being provided

Level 3: Complex and multiple needs


Multiple needs across a range of areas
Mental or physical impairment or illness
Family conflict
Adverse Childhood Experiences (ACEs)
Risk of poor outcomes without help being provided

Level 4: Acute needs and crisis

Suffering, or are at high risk of suffering, significant harm including abuse or neglect
Severe and/or complex physical and mental health impairment or illness
Very serious and/or urgent care needs
The strengths, needs and risks of children, adults, their families, and carers, rarely fit neatly into the levels outlined, so carefully assessing levels of need helps us to consider what the right support may be to ensure this is offered at the right time.
Those with complex, multiple, or acute needs are likely to need more intensive social care services, working with an expert to assess and manage the risk of harm.
Individuals or families with no additional needs, can access universal services or seek specialist services directly, including help from iWork or an adult learning course.
Fairer Together strategy
Download the Fairer Together strategy to learn more about our aims and approach.